Updated June 22, 2023
This policy applies to all students, independent of vaccination status or prior infection by COVID-19.
The safety of our students, Members, and employees is our top priority and much thought and care has gone into protocols to protect the health and well-being of our community while maintaining the breadth and quality of experience that KBIA families have always enjoyed. Some things are different at KBIA these days—below is an overview of how the Member experience has evolved in response to COVID-19. All section protocols have been created with the safety of students, members, and employees in mind.
If you have any questions regarding an exposure or the proper protocol/access to rapid testing, contact the KBIA Office for guidance. KBIA will provide rapid tests to families for purchase if participants are symptomatic.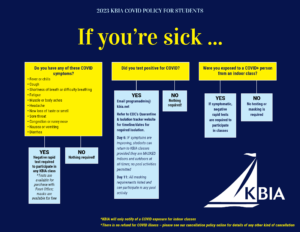 Sickness Policy
No participant is allowed to come to programs if they are sick without a daily rapid antigen COVID-19 test proving a negative result OR an alternative diagnosis in a doctor's letter. If a child shows up ill, you will receive a call to pick them up promptly.
If any KBIA participant tests positive for COVID you MUST notify the KBIA Office so that we can alert other class members and staff of their exposure and ensure they monitor for new symptoms.
If ANY of the symptoms are consistent with any symptoms of COVID-19 we will require a negative rapid antigen test before the student can participate in classes. Test results can be sent to the Office by uploading a picture of your negative test result, along with pertinent name and contact information into this Google Form, daily. Alternatively, you can also email a photo of the test result to [email protected] or present it to the Front Office.
Symptoms of COVID-19 may include any of the following
Fever or chills
Cough
Shortness of breath or difficulty breathing
Fatigue
Muscle or body aches
Headache
New loss of taste or smell
Sore throat
Congestion or runny nose
Nausea or vomiting
Diarrhea
Exposures
Only children who are exposed to a person who tests positive in an INDOOR class will be notified. No testing or masking is required to return to class, unless a student exhibits COVID-19 symptoms. In that case, the student is required to obtain a negative rapid antigen test or alternative doctor's diagnosis as described above under the Sickness Policy.
COVID-19 Positive Students
If at any time your child tests positive for COVID-19 and has participated in KBIA programming that week (indoors OR outdoors) then you must:
Email the Program Administrator IMMEDIATELY to inform KBIA of the positive test at

[email protected]

Follow any required isolation timeline from the CDC (refer to the agency's Quarantine and Isolation tracker linked here)
Your child will be excluded from programming until day 6 and will return wearing a mask indoors and outdoors at all times until day 11; they will be excluded from all swimming activities until day 11.
Vaccination
KBIA encourages (but does not require) all age-eligible participants to receive all COVID-19 vaccine doses, including boosters (if eligible) in accordance with the most updated recommendations from the CDC.
KBIA will require all STAFF, by the start of summer employment, to have received all COVID-19 vaccine doses, including boosters (if eligible) in accordance with the most updated recommendations from the CDC. Requests for medical exemption/reasonable accommodation to this requirement must be submitted to the Executive Director two (2) weeks prior to the staff 's expected start date and will be reviewed on a case by case basis in accordance with applicable law.
Masking and Testing
As of May 11, 2023, the COVID-19 Public Health Emergency has expired. At this time, non-symptomatic individuals are permitted, but not required, to mask indoors or outdoors. Staff, students and parents may look to the community's COVID-19 hospital admission level for guidance as to whether masking is advisable on an individual basis. The following link can be used to view this detail: https://www.cdc.gov/coronavirus/2019-ncov/your-health/covid-by-county.html. In addition, testing is not required for regular participation at this time unless an individual is symptomatic. Please see the Sickness Policy above for clarity.
COVID-19 Refund Policy
In the event of missed class due to a student's positive COVID-19 diagnosis, any tuition or fees paid will NOT be refunded.