KBIA gives Arundel boy summer of a lifetime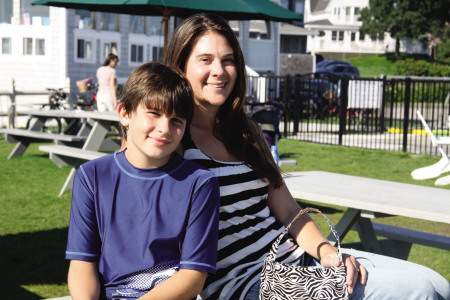 "Mom, watch this!" calls Zachery Litvinchyk from the diving board.
A forward flip and two seconds later, he pops up from the water with a huge smile on his face. Once too timid to try, he has been working up to this moment for a month.
"It's amazing to see your kid grow so much — in four weeks!" says his mother, Jessica Litvinchyk. "It's amazing how much he's matured and the confidence he's gained."
The 11-year-old Arundel boy was one of some 600 kids who attended the Kennebunk Beach Improvement Association program this summer, and one of 12 local children attending on a scholarship. For four weeks, he's taken surfing, swimming and diving lessons, he's gone fishing several times, learned how to kayak and even made his mother a purse and wallet out of duct tape as part of the program's popular Craftmeisters class.
"I can't even describe in words how wonderful this has been," says Litvinchyk. "The counselors and staff are totally amazing. And I am happy because he's safe and I don't worry about him. He's here having the time of his life."
For Litvinchyk and her family, the timing couldn't have been more perfect for the stay-at-home mom who recently started working part-time.
"I just went back to work and was wondering how I was going to pull off this summer with the kids," she says, noting her daughter Haley, 8, attends the Arundel Summer Rec Camp. "It all just kind of fell together perfectly."
The Kennebunk Beach Improvement Association at Lord's Point annually awards scholarships to children from Kennebunk, Kennebunkport and Arundel. Executive Director Martin Lodish works with principals at Kennebunk Elementary School, Sea Road School, Mildred L. Day School in Arundel and Consolidated School in Kennebunkport to identify exceptional children who might not otherwise be able to attend the summer recreational and enrichment program at the beach. Children attend four out of the eight weeks of programming.
"It's an important part of KBIA's mission," says Lodish, "and we are so proud to offer this one-of-a-kind opportunity to enjoy the summer at the beach."
And Zachery was a perfect choice, says Mildred L. Day Principal Dr. Kevin Crowley.
"Zach represents all that is right with the youth of today," he says. "He is a young man who is kind to everyone and always willing to help out. Zach is also a young man who works as hard as he can and always puts forth his best effort."
New this year, KBIA launched a Shop & Dine program to fund scholarships, and in July the Shops at Port Walk (beach grass, the Shell Shack, Stem to Stern, Butterflyfish, and Victorian Boutique Affair) donated enough proceeds from a special KBIA Night to fund one student next year.
KBIA was the highlight of his summer, says Zachery.
His favorite activity this summer?
"Surfing," he says without hesitation. "It's a lot like riding a skateboard, it's really cool."
KBIA is a not-for-profit organization and we're proud to offer scholarships to children of the Kennebunk area who require financial assistance – ensuring everyone can benefit from and enjoy an inspiring, fun-filled summer.
Please contact [email protected] for more information about KBIA scholarship opportunities.