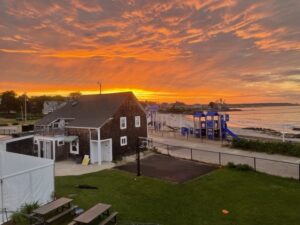 You have a chance to make a difference, to give a gift to a community of children that spend summers at KBIA learning new skills, gaining new experiences, and making lifelong friendships. No donation is too small, and all contributions go towards your choice of scholarships, facilities, and/or the general fund:
Scholarships

: Help us keep the spirit of summer alive for children who are unable to attend KBIA without assistance. For every $500 donated to the KBIA scholarship fund, we are able to invite a child to attend KBIA for a four week scholarship! Each year we have traditionally offered 20 to 25 children the opportunity to experience a KBIA summer — free of charge and discreetly issued. The impact of a summer spent swimming, sailing, and just "being a kid" has a lasting impression.

Facilities

: Our unique facility is located at the base of a small peninsula known as Lord's Point between Mother's Beach and a sheltered cove. Keeping up with building and property repairs, updates, and improvements is a constant project. We focus on making the campus safe, convenient, and enabling our classes to be the most they can be!

General

: Let us decide! This donation fund can be accessed for a multitude of projects for the benefit of KBIA summer enrichment activities.
To make a donation by mail:
Please send checks to:
KBIA
P.O. Box 707
Kennebunk, ME 04043
To make a non-membership donation online, please fill out the form below. For all membership donations, please visit our Member Sponsors Page
For specific donation information and questions, please contact our Executive Director at [email protected].
As a 501 (c) (3) not-for-profit organization, KBIA's mission since 1910 has been to provide an exemplary enrichment program for children and to be a positive influence in the life and welfare of Kennebunk Beach and the Kennebunk-area community.
With the help of our members and the business community we are able to extend scholarships to children of the Kennebunk area, keep Mother's Beach safe, clean, and family-friendly, organize family-oriented community events and maintain KBIA's quality enrichment programs and facilities.
Please take a moment to visit the rest of this section to learn more about how you can contribute to KBIA.
We appreciate your generosity on behalf of community children!