We have really enjoyed seeing some familiar faces this week as we started up our onsite waterfront and tennis classes! We don't want to jinx anything, but classes have gone so well and we want to thank you for all your cooperation and understanding as we try our best to offer classes in the safest ways we can this summer.
We are thrilled to annouce that starting on July 20 the KBIA pool will be open and offering swim lessons! Lessons this summer will look a little different, and like our other onsite offerings, will have reduced class sizes in compliance with our current guidelines. Registration is now open and our onsite classes document has been updated to include swim offerings (located here:
https://drive.google.com/file/d/1tzGhKSW7g4Xd-6XWg05M801IX-AeBOlY/view?usp=sharing
).
PLEASE NOTE:
Only registrations e-mailed to
[email protected]
will be processed, NO CALLS PLEASE!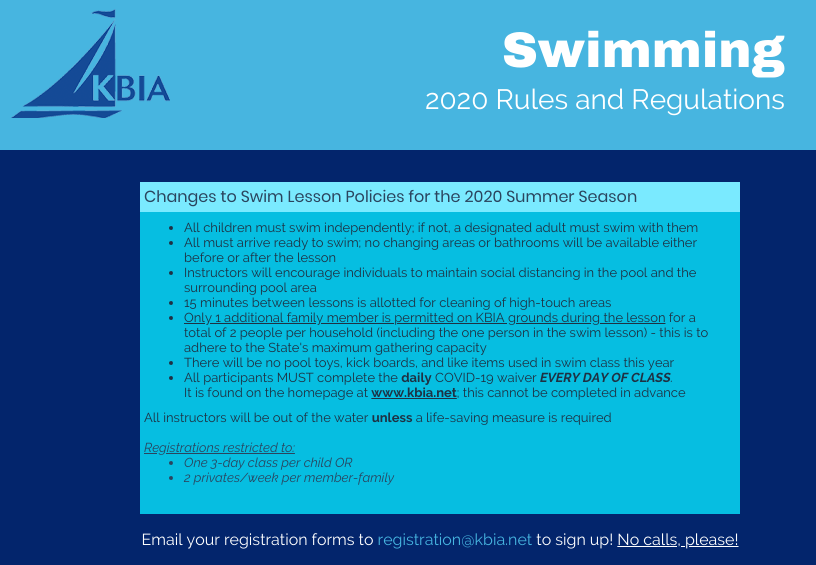 A reminder that even if you don't participate in the daytime classes, we will have nighttime experiences. Check out the lineup for week 4 here:
Speaking of nighttime experiences, our weekly Teen Night will now be held onsite at KBIA! This coming Thursday, July 16, teens are invited to join us on the KBIA lawn for ice cream and lawn games from 6:30-8:30pm. Cost is $20 per participant, and registrations are accepted only by e-mail at
[email protected]
.
As always, let us know if you have questions. We are in the office from 9am-4pm every Monday-Friday now and we can do business through the window on the porch!
Best,
Mimi Fox
Executive Director
KBIA VIRTUAL ROAD RACE
This weekend!
Near or far, we hope you will join us this weekend for the KBIA Virtual Road Race! Run any 5k route you'd like and post pictures of your run along the way using the hashtags
#run4annie
and/or
#dayatthebeach5k
, and we will share on our social media all weekend!
We have 3 prizes and those who post their pictures will be eligible to win:
1st place: KBIA coasters, featuring original KBIA drawings
2nd place: KBIA coffee mug, featuring original KBIA drawings
3rd place: KBIA 2020 Road Race t-shirt
This year's race is in memory of Annie McNamara Evans, a longtime supporter of KBIA and former counselor, who recently lost her coruageous battle with cancer. Proceeds from the race will be donated to the Dempsey Center in her name.
The Bauman Family Foundation will be matching our contributions to the Dempsey Center in Annie's name. The Dempsey Center provides services that can help cancer patients manage the emotional, mental and physical impact of cancer.
We hope you will join us in this great cause.
REGISTER HERE: http://www.lightboxreg.com/kbia-2020?func=&mobile=1
If you're local, here is our usual road race route..beautiful beach views along the way!
VIRTUAL PARENT HAPPY HOUR
This Friday!
Join other KBIA adults at the end of the week for a virtual happy hour! With a view of the ocean, let's all wind down and say hi – whether we're around the corner or across the country.
For those of us in town – grab the featured flavors from The Scoop Deck in Wells and relax with a drink of your choice and some dessert!
Call the Scoop Deck at 207-646-5150 between 11am-4:30pm to put in your curbside order and be sure to pick up any time before 5pm!
Featured Flavors:
Dinosaur Crunch (fun for the kids):
-Blue vanilla w/ chocolate crunch candies & fudge swirl
Topsy Turvy Turtle (for the adults/perfectly describes 2020!!):
-Caramel ice cream w/ chocolate swirl & pecans
Important Links
Onsite Classes Link: